The Importance of Office Amenities in Class A Office Buildings
The current COVID-19 pandemic is causing disruptions to how we work and where we work, and office amenity trends are changing, too. Pre-COVID, commercial real estate tenants were enticed by office amenities such as chic coffee bars, fitness centers, and plazas. Post-COVID, although so-called "cool" office amenities will still be cool, we'll likely see a shift in expectations. Professionals will now seek spacious, highly-sanitized open workplaces as the world returns to normal.
There are many indications that Class A office spaces will remain quieter as workers grow accustomed to their home office and commute-free workday. But a counter-trend also seems inevitable: many professionals will oblige. After all, many do want to go to work in an office setting. These people will typically be attracted to the unique office amenities that Class A commercial buildings provide such as an onsite health medical office.
Overview of Office Amenities
The world's leading companies are all competing to employ and retain the best talent. C-suite executives realize that to differentiate themselves from competitors, they must leverage and communicate their brand's authentic vision and culture. Office amenities create a way for businesses to immerse employees in a unique culture, providing an environment where staff can thrive.
Well-designed office amenities are critical components of a successful workplace, as they provide a range of benefits for employees and employers. To excel in today's global economy, C-suite decision-makers must provide work environments that motivate and inspire the most sought-after employees. Top-notch amenity spaces can help to attract, stimulate, and retain your best employees.
As companies evolve and strive to provide more with less, businesses across all industries continue to encourage their workers to increase productivity and efficiency — moving products and services to market cheaper and faster. This obsession — achieving more with fewer staff — can add significant amounts of stress to workers. Increased working hours and shorter deadlines add to the pressure of work/life balance.
As a result, the modern workplace environment has become more than just a place to get work done. Today, it's a place to socialize, innovate, relax, and decompress. When it comes to Class A office buildings, the most successful venues provide activities and atmospheres that engage the senses and make employees feel at home.
All of this can be accomplished when you invest in excellent office amenities. Giving employees a space to move around, engage in wellness activities, find entertainment, eat, and enjoy coworker's company helps create highly desirable working environments. Now, when workers return to offices post-COVID, socialization will be a number one priority. And with office amenities, businesses can build spaces that help employees feel socially fulfilled.
That said, office amenity spaces are not always situated within the immediate office space. Outdoor spaces provide some of the most powerful opportunities for employees to talk, laugh, interact, and establish meaningful bonds during their workday breaks.
Examples of Traditional Office Amenities
An amenity can be defined as a useful feature or facility of a building. Traditional office amenities evolved in line with technology and employee expectations. Twenty years ago, WiFi wouldn't have been a common feature in most offices. Today, it's regarded as a staple of the workplace.
Below are five examples of today's most common office amenities:
Conference Facilities.
Many C-suite executives provide meeting rooms in their buildings as dedicated discussion spaces. These rooms are typically located outside the main working areas. Giving employees access to conference facilities with adjustable room sizes helps them to plan and host meetings for any number of people.
Fast and Efficient WiFi.
As mentioned above, reliable WiFi is a core expectation in the modern professional world. Any Class A office that doesn't have WiFi is at a considerable disadvantage. Businesses expect their staff to stay connected at all times, even if they step outside the office on their break. Likewise, professionals want hassle-free internet access at all times, with excellent reception throughout the office space.
Dining Options

.

Although the canteen has been a popular amenity in factories and industrial workplaces for decades, onsite cafeterias and pop-up restaurant services are now a common office amenity. Today's professionals don't want to be forced to leave the building to access good coffee and food. In fact, Colliers International says that property managers must expect to allocate 12% of their shared spaces to office amenities such as gyms and onsite dining or get creative and bring in a different food truck every day of the week.
Fitness Centers.
If you want a Class A office that attracts exceptional talent, a fully equipped fitness center is a must-have office amenity. Motivated and driven people like to take care of their health. However, after a long work day, most people don't want to exercise. By providing a gym for staff to use during their work day, you're promoting a healthier workforce and increasing employee productivity.
Outdoor Space.
In light of the recent pandemic, access to outdoor spaces has become even more essential for today's workers. Try to ensure that your outdoor amenities are as impressive as the facilities that you provide indoors. Spacious, green outdoor areas can provide a welcome break from 'screen time' and give staff a place to collect their thoughts.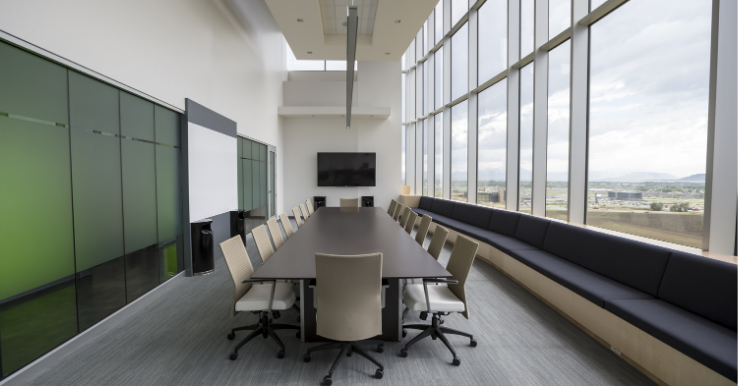 The Future of Office Amenities
We've mentioned the term 'Class A office' throughout this post, so let's talk about what a Class A office space actually is.
Class A commercial real estate refers to the newest and highest quality commercial buildings on the market. These buildings are typically the best constructed, most aesthetically pleasing office buildings on the market and possess quality infrastructure. Class A offices tend to be well located, have excellent access, and are managed to the highest possible professional standards.
Pre-COVID, the majority of companies thought that offices were critical for community and productivity. Today, even though work priorities have shifted, ever-evolving technology can help reinforce a company culture by building virtual communities where workers can be location independent.
Of course, once we enter the post-COVID world, many in-person interactions will resume. Once that occurs, one of the more sought-after amenities for Class A offices will be onsite health clinics. With medical concerns at the center of many people's thoughts, onsite health clinics are quickly becoming an amenity that drives occupancy and further encourages employees' overall wellness. This resource is a vital one, and an amenity every company should promote in the years to come.
What Amenities Should My Building Offer?
If you're operating your office space as usual after lockdowns have ceased, you'll be expected to provide the standard amenities mentioned above while emphasizing space and sanitization.
However, if you're working with a semi-remote or fully remote workforce, perks such as subscriptions to gyms and exercise classes, bike-sharing apps, meditation classes, and incentivized 'working breaks' should be considered.
Bear in mind that COVID has made thousands of people more health-conscious than ever before. So, office amenities must reflect the desires and aspirations of a newly health-conscious workforce. Today, temperature monitoring stations, onsite health clinics, and COVID-19 testing stations are all considered 'good practice' amenities as we try to keep infection rates to a minimum.
Indeed, with new strains of COVID-19 emerging, these amenities could remain vital for years to come.
When it comes to onboarding and hiring new employees, you must be prepared to share your company culture through immersive digital environments, virtual meetings, 3D walkthroughs of office facilities, and videos. On top of this, your amenity package must cater to remote and non-remote employees while being attractive to both parties.
Conclusion
Whether providing digital or physical office amenities, your employees' mental and physical health should be your number one priority.
Eden Health answers this need by offering a private, full-service medical office inside Class A buildings. Our concierge health office amenity can be delivered into your existing footprint in as little as 90 days.
Learn more by reading our case study The Latest Prestige Amenity: Employee Health at The Connell Company.