Many HR teams face challenges when they work within a disconnected healthcare framework that includes multiple care partners. You're tasked with educating employees on health insurance plans and programs as well as how to seek care from each of your current providers. Management is pressuring you to provide ideal benefits within a tight budget. And all this stress is exacerbated by the COVID-19 pandemic, which, by magnifying these challenges, creates a greater urgency to fix them.
There's a better way: Integrated 360 care unifies primary medical care, mental healthcare, and insurance navigation support all under one roof. This full-spectrum approach ensures that your team has everything they need to stay healthy, including:
A healthcare team that provides 24/7 virtual care via a mobile app
Same-day appointments at nearby clinics or at pop-up health clinics
Insurance navigation to answer any questions about health plans, benefits, and associated costs
In Eden Health's new eBook, A 360 View: A Closeup Look at Integrated Care, we demonstrate why integrated 360 care is essential to workplaces, especially during COVID-19, and how you can implement strategies to keep your employees healthy and safe. Below, we've highlighted some key sections of content from the larger guide, including some of the challenges facing HR and how to find solutions that address these issues.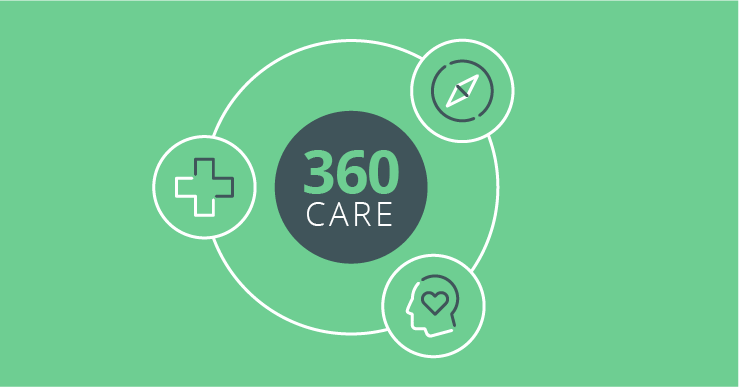 Challenge #1: A fragmented healthcare system.
PROBLEM: A disjointed care system that incorporates a network of unconnected providers.
In a study in The American Journal of Managed Care, doctors indicated that highly fragmented care often results in poor quality treatments, higher healthcare spending, and higher rates of preventable hospitalizations, especially with chronically ill patients.
This fragmentation creates costly gaps in care and may lead to hospitalizations that could have otherwise been preventable. And it can increase the pressure on companies to provide employees with what they really need—comprehensive, easily accessible care that leads to better outcomes and healthier workplaces.
SOLUTION: A provider that can offer a single, unified source of comprehensive, coordinated care.
Integrated care solutions can do this by starting with a single point of contact, ideally via a mobile app, to reach out to your care team for any physical, mental, or financial question related to your health and by having all your shared electronic health records in one place. By bringing together the best in clinical care, mental healthcare, and even insurance navigation, this approach provides comprehensive, continuous care opportunities, which is even more critical now during the pandemic.
Eden Health is one such medical provider. We believe high quality care should include COVID-19 screening and testing, 24/7 virtual primary care, in-person doctor visits, mental healthcare, and benefits navigation in order to meet the medical needs of all employees. Doing so is critical to creating healthier workplaces in every state.
Challenge #2: Care in the digital age.
PROBLEM: Lack of employee usage of virtual visits, resulting in higher costs and gaps in care.
Studies in the health field and the experiences of our own clinicians suggest that 75% of the time, a health issue can be resolved via telemedicine. Yet, even as polls of millennials have indicated their preference for using telemedicine, many companies report a 4% or lower overall engagement.
Telemedicine has many advantages as a primary care delivery model, including same-day attention, more immediate response times, no appointments, and no work time lost due to doctor visits. It can also be extremely efficient and effective because diagnoses based on certain symptoms are the same whether that patient is seen in-person or via virtual visit. Telemedicine can also be effective in managing chronic illnesses. Yet many solutions today have failed to attract significant enough usage to make the expense of the service worthwhile. This underutilization is likely due to a lack of employee awareness and difficulty in system setup and use.
SOLUTION: Service-based telemedicine that combines a user-friendly interface with a strong patient-provider relationship.
A truly integrated telemedicine solution offering best-in-class care alongside user-friendly technology wins high user engagement. It provides a higher level of service by offering continuous, coordinated care. And by having essential services such as primary care, mental healthcare, and insurance navigation all on one platform, employees can feel confident that they are getting the help they need, when they need it, even digitally. Having the service of a concierge doctor in a mobile app provides convenience without giving up personal patient-doctor relationships. Within the integrated 360 care spectrum, a PCP knows the patient and their medical history so they can provide insightful care for their wellbeing via virtual visit. This helps patients avoid more expensive medical bills down the road, allowing them to skip unnecessary trips to the ER.
The heart of Eden Health's approach is the patient-provider relationship. We assign every employee a cross-functional Care Team, so when accessing care through telemedicine, employees may still see the same providers each time.
Challenge #3: Returning to work during a public health crisis.
PROBLEM: New employee health issues brought by the COVID-19 pandemic.
In a health crisis, businesses are forced to rely on the guidance from health officials for proper protocols. Under OSHA law, employers are required to provide a safe and healthy workplace for employees. There are regulatory updates to what this means as the economic and social climates continue to change or evolve.
The economic impacts of the COVID-19 pandemic have hit both employees and employers hard, giving rise to a new set of complications. When creating healthier workplaces, businesses must find ways to reduce the spread of infection for essential workers currently in the office. And, as they create a comprehensive return-to-work plan to ensure the safe return of all employees, companies are under additional scrutiny to provide a safe working environment and prevent further transmission of the disease. This requires more planning, safety equipment, procedures, and policies to ensure the safety of all workers. And they need the help of medical professionals in order to keep every employee safe. Meanwhile, during COVID-19, many employees are delaying or avoiding routine or preventative visits for fear of contracting or spreading the infection.
SOLUTION: A customized approach to healthcare offering support to employees and employers for all health-related needs.
An integrated health care plan can ease the burden of COVID-19 related issues by offering:
A system for daily symptom screening and temperature checks
Triage and immediate treatment of symptoms
Integration with the employees' basic healthcare program, which enables immediate responsiveness to changes in guidelines
Medical experts to customize the program for each employer, manage prevention, quarantine recommendations, and care for infected employees as more information and regulations around COVID-19 continue to evolve
An Eden Health COVID-19 plan takes the basic elements of screening, testing, and overall healthcare and tailors it to your individual worksite. Our dedicated medical experts offer customized return-to-work plans and ongoing management of employee care.
Challenge #4: Lack of coordination for mental health services.
PROBLEM: Widespread poor mental health due to pandemic-related anxiety.
A recent poll conducted by KFF found that in mid-July, 53% of adults in the United States reported their mental health was negatively impacted due to worry and stress over the coronavirus, compared to 32% reported in March. Given that the pandemic has continued to worsen, this figure could be even greater now.
Currently over half of the adults in the U.S. are suffering from negative mental health, which is a third more than when COVID-19 first hit back in March. For many adults, the additional stress caused by COVID-19 is triggering or worsening existing conditions such as depression, anxiety, and post-traumatic stress disorder. Others that are experiencing mental health disorders for the first time will require longer-term support.
SOLUTION: Integration with primary care, enabling earlier diagnosis and treatment of mental health conditions.
Mental health support should be easy to access. Due to our current culture, though, many patients in need of treatment are reluctant to seek help, and those who are seen are often undiagnosed or misdiagnosed. Those who experience physical symptoms such as fatigue, chest pains, or gastrointestinal distress may not connect them to a mental illness or stress disorder. Conversely, fatigue, which is often seen as a symptom of depression or anxiety, can indicate a physical disorder such as thyroid disease. With integrated 360 care, a PCP will recognize both physical and behavioral changes in a patient's health. A PCP who knows their patients and can detect unusual behaviors or symptoms is the fastest way to proper diagnosis and treatment.
Recognizing that physical and mental symptoms often overlap, Eden Health's primary care providers routinely conduct mental health screenings, creating seamless care with a whole-person approach.
Challenge #5: Helping employees understand and utilize their health benefits.
PROBLEM: Lack of employee comprehension of healthcare benefits and key terminology.
According to a recent report from League and Harvard Business Review, 75% of employees think health benefit offerings reflect a company's competitiveness, yet more than half don't understand their benefits or how to access them.
As an HR professional, you know how difficult it is to stay on top of the complex and ever-changing world of healthcare benefits as well as the challenges of creating healthier workplaces. Imagine the confusion felt by employees who may only review their plans once a year during open enrollment or when they need care. For employees, not knowing where to go for care or what benefits they are entitled to can have other detrimental health effects, leading to higher medical costs and more time off of work. And for your team, making sure employees know what benefits they have and how they can utilize them to their full extent is a difficult job.
SOLUTION: Dedicated insurance specialists that work directly with employees to answer questions and solve issues.
Insurance navigation specialists are experts on all things insurance-related. They are a key part of an integrated health plan: as a part of the employee's care team, they understand each employee's medical needs as well as their insurance coverage in order to guide them in the right direction. Insurance navigators' insight and guidance are extremely valuable during open enrollment periods. By helping employees find the right plans to fit their needs, they alleviate much of the support and education burden usually placed on the HR team.
In Eden Health's integrated care solution, insurance navigation specialists are a part of each employee's Care Team. They guide employees through the complexities of health plans and insurance coverage, so HR teams can focus on more high-value strategic initiatives focused on creating healthier workplaces.
–
For more insight and resources on these issues, please download Eden Health's new guide A 360 View: A Closeup Look at Integrated Care. It demonstrates why integrated 360 care is essential, especially during COVID-19, and outlines how to implement strategies that will keep your employees healthy and safe. Learn how to:
Ensure your benefits align with industry standards
Reduce time spent answering employee questions
Improve health outcomes with integrated 360 benefits
Find integrated solutions that help employees and HR