A company's mission, vision, and values are intertwined; Why do you exist? What do you want to be? And how does your team treat each other when carrying out and realizing these goals?
As Matt McCambridge, CEO and Co-Founder of Eden Health, says, "You need to have a strong mission and strong values as an organization, which guide how people interact with one another. The reason that these statements are so important is they allow every person to know at any given time that their actions are in service of your strategy, your vision, and your mission, so that each individual person is moving together and in the same direction as the organization…"
We use our values to help guide us and to reinforce what makes our people special. As a group, these values are intended to be the clearest articulation of what it looks like when we are at our best and detail our approach to how we live up to the commitments we make to our patients, our partners, our customers, and the world at large.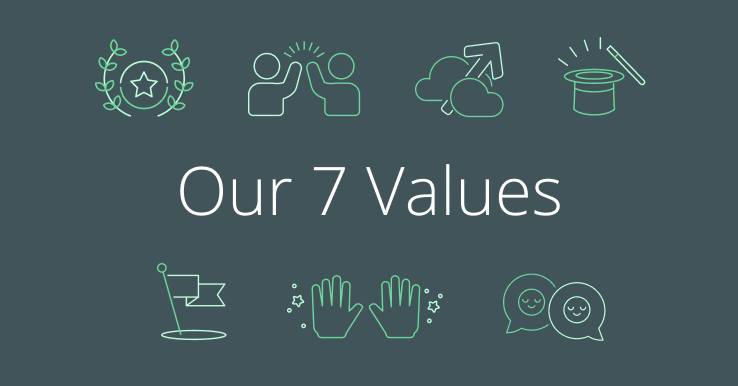 Put Patients First
As a healthcare organization, our most essential value and our guiding light is putting patients first. We value our patients' health, safety, privacy, and trust above all.
Stir the Magic
To fulfill our bold, ambitious mission, we'll need to make magic. Making magic requires no sorcery. Instead, we create it, using a potent mix of huge vision. Commitment. Discipline. Energy. We make magic when we know our customers so well that we can fulfill their needs even before they can articulate them. We make magic when we challenge ourselves and our teammates to transcend ordinary problems.
And we make magic when we skillfully deploy our time, brainpower, and resources to bring the future to bear.
Deliver Excellence in all We Do
We achieve success by setting our standards high—and exceeding them. We deliver more value, make the complex simple, make the mundane beautiful, and make the frustrating easy.
All of that requires building the big stuff and sweating the small stuff. And while we aim high, we recognize that the path to the peak is rarely a straight line—so we learn from our setbacks, adjust and set our sights again for the top.
Win as a Team
We put the broader organization before our teams and our teams before ourselves. Our teams reflect our commitment to diversity, equity, and integrity.
We take extreme ownership, holding ourselves accountable to our own commitments and responsible for our own failures. We foster shared goals, and when the goal is undefined, we seek clarity to guide ourselves and the team to success.
Improve Continuously
We learn new skills, add to our experiences, and take it upon ourselves to do better every day. As our company evolves, so too will each person on the team, growing in an environment where each person can reach their full potential.
Speak Candidly, Presume Good Faith
We seek candor to ensure the best ideas win. Candor can be uncomfortable and difficult.
We foster understanding, empathy, and compassion for each other so that candor can be recognized as a gift—rather than something intended to disparage or harm. For candor to be effective, we participate with noble intentions and presume that each teammate acts in good faith.
Celebrate with Both Hands
We celebrate achievements and excellence and do it with gusto.
For more information on Eden Health's vision for the future, check out our blog posts on our Series B Funding and our Medical Advisory Board.