The development of the Moderna and Pfizer COVID-19 vaccines mark a significant shift in the pandemic, a hopeful turning point as cases continue to surge across the country. But many questions remain: Are the vaccines safe for pregnant women? Can lactating patients get vaccinated? What about women who plan to become pregnant? The American College of Obstetricians and Gynecologists (ACOG) and Society for Maternal-Fetal Medicine (SMFM) recommend that both vaccines should be offered to these populations, and these individuals should lean on their medical providers to help them weigh the options and ultimately make a decision that's right for them. Below we outline pregnancy considerations for COVID-19 vaccination, based on information from ACOG and SMFM.
Benefits of Getting the Moderna or Pfizer Vaccine
Getting sick with COVID-19 is dangerous, especially for pregnant women. In fact, COVID patients who are pregnant are 500% more likely to need a ventilator or wind up in the ICU than COVID patients who are not pregnant. Similarly, pregnant women are more likely to die of COVID-19 than their non-pregnant counterparts. The good news? Vaccination will help protect this vulnerable population from the novel coronavirus. The authorized COVID-19 vaccines are around 95% effective and significantly prevent the onset of disease and resulting complications.
ACOG and SMFM state that there is no reason to withhold the vaccines from pregnant women; the vaccines cannot cause COVID-19 since they have no live virus, and they do not contain ingredients that are known to harm pregnant women or fetuses. Many women receive routine vaccines during their pregnancy. For example, the tetanus, diphtheria, and flu shots are all safe for pregnant women, and we have no reason to believe that the COVID-19 vaccines are any different.
Risks of Getting the Moderna or Pfizer Vaccine
According to ACOG, no clinical trials have tested the vaccines specifically in pregnant and breastfeeding women. Until these trials are complete, we do not have data that conclusively proves the vaccines work as well or have a different side effect profile in these populations. While there is no particular reason for pregnant individuals to fear the COVID-19 vaccine, some people may want to wait to get vaccinated until more studies are conducted with this special population.
We do know, however, that people may experience side effects after vaccination – whether they are pregnant or not. The side effects noted during the trials included soreness at the injection site, muscle pain, chills, and headache. Although there were no serious side effects reported in the trials, there have been rare examples of severe allergic reactions since the start of wider distribution of the vaccine. It is also expected that around 1% of people who get vaccinated will experience a high fever over 102 degrees Fahrenheit. A persistent high fever during the first trimester of pregnancy may increase the chances of miscarriage or birth defects. Therefore, some individuals may decide to delay vaccination until after their first trimester. If you experience a high fever while pregnant, the CDC recommends taking acetaminophen such as Tylenol.
Determining your Chances of Contracting COVID-19
As patients decide whether or not to get vaccinated while pregnant, they should think about their safety. If they have a high risk of getting COVID-19, they may choose to take the vaccine. On the other hand, they may want to wait for more information if they can protect themselves from the novel coronavirus in other ways. How do they know which category they fall into? They should consult a medical provider.
The likelihood of getting sick from COVID-19 is higher if they:
Come into contact with people who do not wear masks
Are older than 35 years old
Are overweight or have other medical issues such as high blood pressure, heart disease, or diabetes
Are a smoker
Are a healthcare worker
Are a racial or ethnic minority, or their community has a high rate of COVID-19 infections
The likelihood of getting sick from COVID-19 is lower if:
They can always wear a mask around others
They can socially distance from others for the duration of their pregnancy
Their community does not have high rates of infection
Other reasons to delay vaccination? ACOG advises individuals to wait if they've had a severe allergic reaction to vaccines in the past or if they are more worried about the unknown risks of the vaccines than the known risks of COVID-19.
Breastfeeding and COVID-19 Vaccines
The Society for Maternal-Fetal Medicine stated that there is no evidence to suggest that the vaccine impacts the safety of breastmilk. In response to vaccination, our bodies make antibodies that fight the infection. These antibodies pass into the breastmilk and help the baby prevent the infection as well. Because the COVID-19 vaccines do not contain the live virus, it is impossible for the breastmilk to contain the novel coronavirus.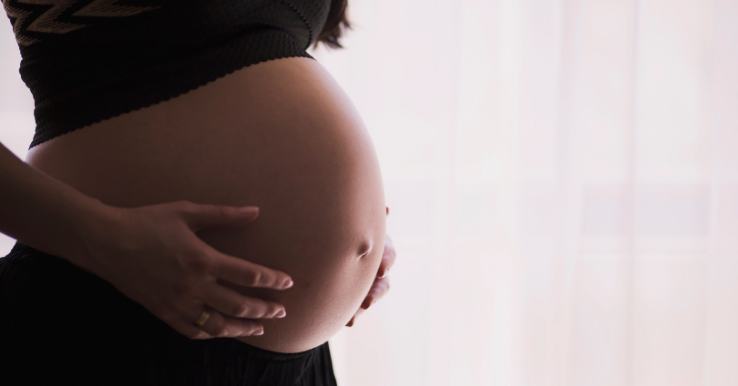 The decision to get vaccinated against COVID-19 is ultimately up to each pregnant patient. Their medical providers are here to support them and help them decide based on their specific situation. Depending on their priority group, it may be months before the vaccines are even available to some of these individuals, but it's never too early to start thinking through their options. Want more information on the Moderna and Pfizer vaccines? Check out our recent blog post highlighting other vaccine FAQs.