Prior to COVID-19, Class A office amenities focused on outdoor entertainment spaces, hotel-quality conference rooms, and retail experiences rivaling top malls. More recently, anchor tenants are thinking about integrated health and corporate wellness programs for their buildings as well.
"It can't just be roof decks and ping-pong tables anymore," said Keating Crown, principal at Sterling Bay, a developer that outfits corporate campuses with bowling alleys, city-view swimming pools, and sparkling fitness centers. Now it plans to add onsite medical clinics from Eden Health to seven properties in Chicago and elsewhere. "Medical is now part of the suite of amenities that you need to provide. It drives occupancy."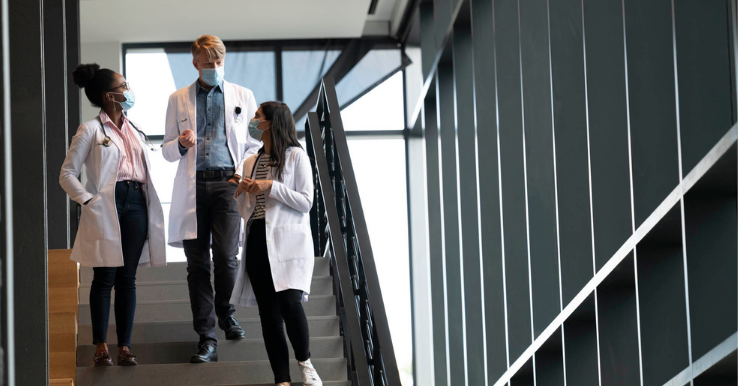 During a Commercial Observer panel discussion, Crown and other experts examined the uncertain occupancy of the workplace after the pandemic. With many working virtually, office spaces are nearly empty — from Manhattan skyscrapers to sprawling suburban campuses.
Bringing employers and employees back to the office will involve new safety protocols that involve landlords and tenants to collaborate more closely. From HVAC and sanitization upgrades, to mandating workers, to self-report symptoms — building trust inside the community will be a complex effort.
The best post-pandemic plans will actually be led by commercial real estate operators, not employers, said Matt McCambridge, Cofounder and CEO at Eden Health. "It's very confusing for employers to manage health and safety. That's basically asking every tenant to be an epidemiologist, legal scholar, and safety management officer. That's just not going to be in the wheelhouse of, say, 50 tenants — and they won't all implement changes in the same way," said McCambridge. "Landlords have a big opportunity to blueprint a path forward."
Meanwhile, business leaders are watching closely.
"This is the first time that the C-suite in every organization is thinking, 'Are my employees healthy enough to work? Are my customers healthy enough to buy?' " said McCambridge. "That's on the mind of everybody everyday, and it's elevated the importance of robust safety plans."
Shane Connell, executive vice president at the Connell Company, has been working tirelessly on return-to-work plans for tenants. That means meetings with top architecture firms, HVAC companies, and medical experts from Eden Health.
"A big part was Eden Health and its input," said Connell. "We started in March, implemented our plan to tenants in May, and firms are now starting to come back. It's been a pretty smooth transition."
Mat Rosswood, chief operating officer at Kramer Levin, says the law firm vacated its New York offices at the start of the pandemic. Bringing workers back takes a combination of temperature screenings, isolating sick employees, and in-person and virtual access to medical professionals from Eden Health.
"We need to make sure when someone has a potential COVID-related issue, we can connect them to care in a way that we haven't done previously by taking a much more holistic and connected role in our team's healthcare," said Rosswood.
Healthcare Amenities are Part of the Workplace Future
The panelists agreed that medical and health amenities will remain crucial for employers long after the pandemic ends. If you can pop in the elevator and see a physician two floors down, you're more likely to actually go — and less likely to let a health problem linger. Increased access to care leads to better health outcomes, ultimately saving an employer money on the high cost of healthcare.
"The inconvenient things we don't do — like staying consistent with physical therapy sessions or following up with doctors — are easy when they're available in the building where you work," said McCambridge. "It leads to an entirely different environment that promotes health and wellness, promotes strong relationships with medical providers, and leads to higher quality care at a lower cost."
Rosswood certainly agrees, noting that an Eden Health partnership has increased access to care for employees who may not be able to fit doctor visits into busy schedules.
"Sometimes people don't prioritize their own wellness, and this is a key component of making sure that is happening," said Rosswood. "We've seen first hand when an employee has gone to a facility like Eden Health, had a serious medical issue diagnosed much sooner, and experienced a vastly improved outcome."
Adding a medical clinic and telehealth services could positively affect leasing and retention rates. In the short-term, uneasy employees would be more inclined to return to the workplace after the pandemic. In the long-term, it's part of an attractive package of onsite resources.
"Having Eden Health on our campus elevates all brands," said Connell. "Our mission is to make daily life better for people. We're trying to create a resort brand that is also a wellness brand. It is not a medical offering. This is a service. That's how we're treating it."
For more information and evidence-based approaches to reopening your building safely, download our latest guide here.