Imagine a seesaw. On one end is the physical and mental well-being of your employees; on the other is your need to maximize company success and productivity. In normal times, these two would be perfectly balanced and your seesaw horizontal. But the pandemic has made every aspect of life unstable, including the equilibrium of this previously harmonious relationship. Medical reports and new company guidelines can spike employee anxiety, while revenue needs can cause your business stability to seesaw unpredictably.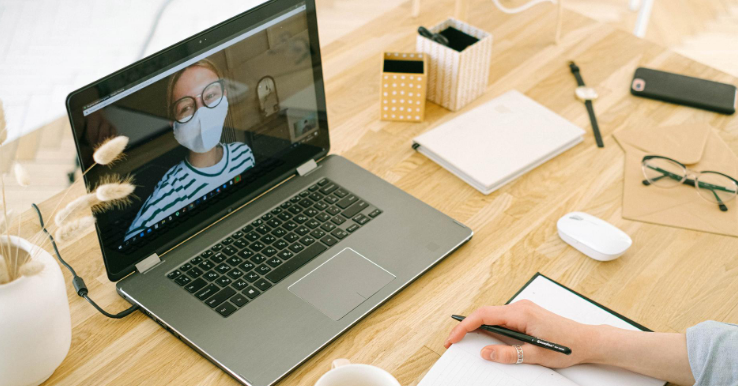 The pandemic's economic impact is becoming all too evident, with many companies not anticipating a return to pre-COVID revenue levels until Q1 2022. This forces businesses like yours to try to do more with fewer resources and raise the productivity of their employees. Meanwhile, employees are fearful about their health and the wellbeing of their loved ones. As a result, employees' confidence in being safe at work is at an all-time low, and what employees expect and require from their working environment has completely changed.
To help companies thrive in a post-shutdown environment, we are sharing some top employee fears and concerns along with ways to bring confidence and motivation back into the workforce.
Fear # 1: Insufficient controls in the workplace to ensure personal safety
Employees are fearful of getting sick, or worse yet, bringing the virus home to vulnerable loved ones. While this is now a universal fear, it is worsened for employees as they are asked to leave their homes and enter the higher-risk environment of the workplace.
Solution:
Inform employees about safety protocols. Make employees aware of the steps the company has taken to protect them. Inform them of the guidelines being followed as issued by The Occupational Safety and Health Administration (OSHA), including identification of hazards related to infection control and precautions taken to keep them safe. Your company should consider observing the following protocols, and clearly communicate your plan to employees.
Perform daily COVID screeners. Many companies are simply performing temperature checks. This alone is not effective in preventing the spread of Coronavirus. A report of over 370,000 confirmed cases in the U.S found only 43% of confirmed COVID cases presented with a fever. This statistic demonstrates a significant amount of fever-free people who are infected with COVID, thus supporting the need for more thorough screening.
A screener should include questions such as:
Have you experienced fever, cough, difficulty breathing, loss of smell or taste, or a sore throat within the past 14 days?
Have you or anyone you have close contact with been notified about possible exposure to a confirmed case of COVID-19 within the past 14 days?
Have you traveled outside the U.S or to areas in the U.S considered high risk within the past 14 days?
Have you tested positive for COVID-19 recently or in the past?
If the answer is yes to any of these questions, instruct the employee to remain home and consider getting tested prior to returning to the workplace, or allow ten days to pass, as recommended by the Centers for Disease Control and Prevention (CDC).
Increase ventilation. Research has shown that in spaces with stale and dry air, infectious droplets can linger and even travel across a room. This can be managed by increasing ventilation. Ensure air vents are fully open and unblocked, and replace or install high-efficiency air or more sophisticated filters. Increase the rate of ventilation in the workplace by adjusting the heating and air-conditioning systems with the use of desk fans and by opening windows.
Install physical barriers. Clear plastic sneeze guards can reduce the need to maintain a 6-foot distance between employees while promoting employee interaction. For offices with an open plan, partitions should be high enough, 55 inches or head height, to avoid direct contact with large droplets, though such barriers can also lead to ergonomic issues.
Implement basic prevention measures. Promote frequent hand washing and put hand-sanitizing dispensers in prominent places. Instruct employees to remain at home if they have symptoms consistent with COVID, including a mild cough. Provide tissues, surgical masks, disinfectants, disposable towels, and no-touch trash cans for employees. Desks, tables and keyboards should be disinfected regularly.
For more best practices, check out our guide Returning to Work Safely: Medically-Validated Approaches to COVID-19.
Fear # 2: Trying to maintain job satisfaction in an unfamiliar environment
Many employees may have felt a lack of control over their lives. Their responsibilities at work and at home may have changed or shifted, leading to frustration in their job or a desire to keep working from home.
Solution:
Empathize. As you speak with employees one on one, take time to listen to their concerns. Take employees' comments seriously. Understand how their lives may have changed, why they may have given certain responses, what they may have experienced, and how this has impacted their mental and physical health.
Survey. Conducting a company-wide survey will help HR teams properly address employee concerns. Make it clear that their responses are valued equally and will be used to develop a consensus. The survey may include specific or broad questions about comfort level with working outside of the workplace and can include questions such as:

Are you comfortable working from the office or do you prefer working from home?

Do you feel safe commuting to work?

What are your motivations for returning to the office?

Have you felt more or less productive working from home?

Are there any obstacles, specific concerns, or fears in returning to the office?

Reinvent. Recovering from the shutdown isn't just about reopening your business but also reinventing it. Be innovative with solutions to drive long-term benefits and satisfaction for employees, while raising product and efficacy for your company. Let employees know that business requirements and obligations will impact how the company as a whole moves forward and may vary from individual expectations. But clarify that all factors will be considered as you reopen your company.

Fear # 3: Changes in schedule and policies
As employees acclimate to a new work environment, they will want to know if corporate policies have changed and how these changes will impact them. They will be specifically concerned about using their PTO to deal with instability imposed by the pandemic and about the possibilities of flex-working.
Solution:
Be flexible. Requiring employees to stay home when sick means employers must ensure sick pay policies are conducive to this desired behavior. It's important to consider reviewing PTO policies and their implications as they pertain to COVID-related illness and time off. Employers should update their sick leave policies to allow for extra days off if an employee tests COVID positive or must remain home to take care of a sick family member.
Increase transparency. Managing employee fears requires open communication between managers and employees. Ensure managers are clearly communicating policy changes pertaining to COVID and their implications. Have managers and employees meet weekly to cultivate trust and relationships. This helps you assess how employees are acclimating to a new work environment.
Encourage involvement. Social media is a great way to keep your employees up to date on changes taking place in the company. Work with employees to create safety task forces or project teams to keep them involved in the process and give them a sense of control in defining their environment.
Fear # 4: Commuting and transportation
Employees may be reluctant to return to the office because they fear becoming infected during their commute. Despite wanting to return to work, employees may prefer to stay working remotely if they think the journey to and from their workplace is unsafe.
Solution:
Promote alternative methods of transportation. To minimize close contact with others, offer employees incentives for using other ways of commuting to work. Promote walking, biking or car sharing amongst family members or coworkers. If feasible for your business, reimburse parking expenses. Consider creating a company account for a car-share service such as Uber or Lyft.
Be creative. Consider changing start times so employees can use public transportation during less busy hours. Encourage employees to work together to cover one another when out of the office. This will help employees adjust their schedules without causing business interruptions.
Continue WFH. If appropriate for your company, allow employees who can perform their role from home to continue working remotely. Consider an alternating schedule, or a schedule that involves commuting to work two to three days a week rather than five.
Fear # 5: Mental Health after self-isolation
During quarantine, the mental health of your employees may have been severely impacted, especially by emotional interactions with loved ones. Company policies must change to offer more empathy and support than they did prior to the pandemic.
Solution:
Focus on employee wellness. Provide resources and education about healthy ways to cope with stress. Remind employees that adequate sleep, exercise, a well-balanced diet, and decreased alcohol consumption can improve their mental health. Encourage employees to take time to themselves by creating a room or space dedicated for meditation and relaxation. Consider dedicated break times throughout the day for employees to utilize if needed.
Recognize signs of anxiety, stress and depression. Learn to observe trouble signs such as lack of motivation, difficulty in completing tasks, uncharacteristic disengagement, lack of self-care, and obvious fatigue. Remind employees that it's normal to experience mental illness with the pandemic. Create a plan which allows managers to regularly check in with employees to ensure their mental health concerns are being addressed.
Provide resources. Train employees on ways to build resistance to stress and anxiety. Make your organization's employee assistance program visible and accessible, so your employees know it is available to them. Develop a peer support program in the workplace that can address common issues resulting from the pandemic such as loss or family difficulties.
While our guidance is not a substitute for professional medical advice, we hope these tips were helpful. By addressing these top employee concerns through empathy, understanding, and ready resources, you can help employees gain confidence in returning to work. For more information and best practices on preparing your company's workspace, check out our guide Returning to Work Safely: Medically-Validated Approaches to COVID-19.
Authored by Stephanie Gregory, NP-C.