AstraZeneca, the British-Swedish company who has been developing a COVID-19 vaccine in partnership with the University of Oxford, announced promising interim results on Monday, November 23. Pascal Soriot, CEO of AstraZeneca, said, "The vaccine's simple supply chain and our no-profit pledge and commitment to broad, equitable and timely access means it will be affordable and globally available, supplying hundreds of millions of doses on approval." The early findings suggest that their vaccine candidate is up to 90% effective, an exciting update following news from Pfizer and Moderna, whose vaccine candidates both showed about 95% efficacy in late-stage studies.
As there continues to be updates across the industry, Eden Health's COVID-19 Vaccine Task Force will help you sift through the news and ensure you are up-to-date on the latest happenings. Below, we outline everything you and your employees should know about the AstraZeneca vaccine.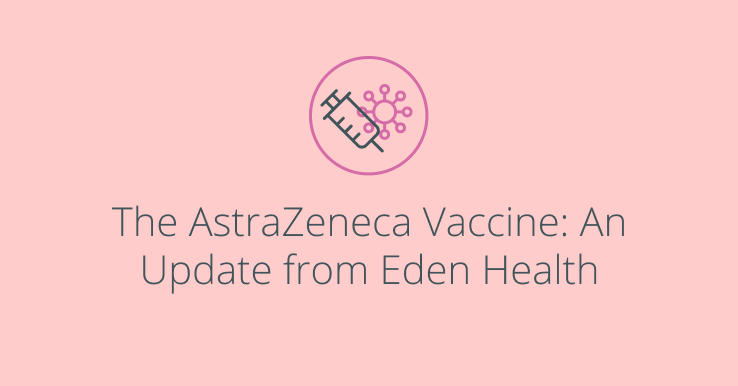 Study Details
Over 23,000 participants were included in the trials conducted in Britain and Brazil. Among volunteers who received two doses of the vaccine one month apart, only 30 contracted COVID-19. Comparatively, among volunteers who received two doses of a control injection one month apart, 101 contracted COVID-19. Researchers tested participants weekly for COVID-19, as opposed to the studies by Pfizer and Moderna, which only tested symptomatic participants. In theory, AstraZeneca's testing method may detect more COVID-19 cases than the trials conducted by the two other vaccine makers, which could have missed asymptomatic cases.
AstraZeneca's experiments are single-blind, meaning only the experimenter knows whether the volunteer receives the vaccine or the control. Because the participants don't know if they are in the experimental group, this strategy reduces bias among the participants. Conversely, Moderna and Pfizer conducted double-blind studies when evaluating their vaccine candidates, meaning the study administrators also do not know whether the participants receive a vaccine or control. The latter method reduces bias even more than single-blind studies.
| | | | |
| --- | --- | --- | --- |
| Trial Regimen | Doses | Phase | Efficacy |
| Half Dose | Two injections: one half dose followed by one full dose a month later | Phase II/III (not considered late-stage trial yet without FDA clearance) | 90% |
| Full Dose | Two injections: one full dose followed by another full dose a month later | Phase III (Late-stage trial) | 62% |
Effectiveness
AstraZeneca tested two distinct dosing regimens with varying degrees of effectiveness. When participants received a half-dose of vaccine followed by a full dose one month later, their vaccine was 90% effective. However, when participants received a full dose of vaccine followed by another standard full dose a month later, the vaccine only proved to be 62% effective. Therefore, the vaccine was on average 70% effective across the two dosing regimens.
In both dosing plans, no participants who received the vaccine were hospitalized. Scientists also noted a decrease in asymptomatic cases, suggesting that the vaccine could slow transmission. These preliminary results are promising and show that they meet the FDA's standard of at least 50% efficacy for emergency use. However, more data may change these levels of effectiveness. While AstraZeneca plans to submit its data from these large international trials to the FDA as part of an application for emergency authorization, it will also be working with the agency to incorporate the design of the more effective half-dose protocol into a U.S. trial that has enrolled 10,000 of a planned 40,000 participants.
Dosage
AstraZeneca's vaccine would require two injections one month apart. If the more effective dosage plan gets approved by regulators, people would first receive a half-dose followed by a full dose.
Why would a smaller first dose be more effective? Researchers speculate that this method may more accurately resemble what happens during exposure to a real infection. There are other factors to consider as well. Differences between the two cohorts' demographic variables, including age and prior exposure to viral infections, may have influenced the results. Statistical power may also be at play given that the cohort of patients who received the smaller first dose was much smaller, with about 2,700 participants, compared to the nearly 9,000 patients who received the full first dose. We will know more as AstraZeneca publishes additional data for further analysis.
Side Effects
Although AstraZeneca temporarily paused its study to analyze potential safety issues in September, scientists have concluded that there have been no serious side effects linked to the vaccine as of today.
The Science Behind the Vaccine
AstraZeneca's vaccine utilizes a genetically modified strain of adenovirus, a common cold virus that infects chimpanzees. This viral vector is weakened so that it cannot replicate but instead carries the genetic material to produce the coronavirus' spike protein. The presence of this protein stimulates an immune response so you are ready to attack the coronavirus should you become infected with COVID-19 in the future.
Availability
AstraZeneca and Oxford announced that they would submit their findings to Britain, Europe, and Brazil's regulators and ask for emergency authorization to begin distribution in those areas. Then, they plan to discuss the data with regulators in the US. If all goes according to plan, they hope to distribute 4 million doses to Britain by the end of the year and have at least 300 million doses produced globally by March 2021. High-priority groups, like healthcare workers, will be given the vaccine first followed by other vulnerable populations.
Storage
The vaccine can be distributed and stored between 36 and 46 degrees Fahrenheit, standard refrigeration temperatures, for at least six months. This means that it can easily be administered in most current healthcare environments, unlike Pfizer's vaccine candidate that requires ultracold storage.
Cost
The vaccine will cost approximately $3 or $4, which is significantly cheaper than Pfizer's and Moderna's vaccines priced between $20 and $37. AstraZeneca has promised to offer it at cost around the globe until at least July 2021 and in poorer countries indefinitely. The U.S. Department of Health and Human Services pledged up to $1.2 billion in May to help finance vaccine development and obtain at least 300 million doses if it worked.
–
If the AstraZeneca vaccine is approved, it will be another step toward ending the pandemic and will be relied on by many across the world. Even though initial findings suggest a lower efficacy than Moderna and Pfizer's vaccine candidates, it is still a highly effective vaccine that will be instrumental in reducing COVID-19 cases. The ability to affordably mass produce the vaccine and store it at refrigerated temperatures will enable AstraZeneca to have a global impact. Of course, it will still take a while to get there, and more information will be required. Until then, we urge you to continue taking safety precautions like wearing a mask, washing your hands regularly, and socially distancing. For more information regarding COVID-19 vaccines, check out our FAQs about Pfizer, a comparison of Moderna and Pfizer, and what you need to know about emergency use authorizations.
Sources:
Phase 3 Clinical Testing in the US of AstraZeneca COVID-19 Vaccine Candidate Begins (NIH)
AZD1222 vaccine met primary efficacy endpoint in preventing COVID-19 (AstraZeneca)
AstraZeneca's Coronavirus Vaccine, Easy and Cheap to Produce, Appears Effective (NY Times)
Covid-19: Oxford University vaccine is highly effective (BBC)