On November 20, Pfizer and German partner BioNTech announced that they filed for emergency use authorization at the FDA, and Moderna is expected to do the same shortly for their COVID-19 vaccine. Both companies have shown evidence that their vaccine candidates are nearly 95% effective. "For those of you not acquainted with the field of vaccinology, that is extraordinary. That is almost to the level of what we see with measles, which is 98 percent effective." Dr. Anthony Fauci, Director of the National Institute of Allergy and Infectious Diseases, said in a White House briefing.
Although these updates continue to show light at the end of the tunnel, we still have time before these vaccines will be widely available. And just because Pfizer asked for authorization doesn't mean they will necessarily receive it; the FDA has a rigorous review process before making a decision in the public's best interest. So what does this process mean for you and your employees? As an industry leader in COVID-19 solutions, we answered some questions below that may be top of mind for you right now.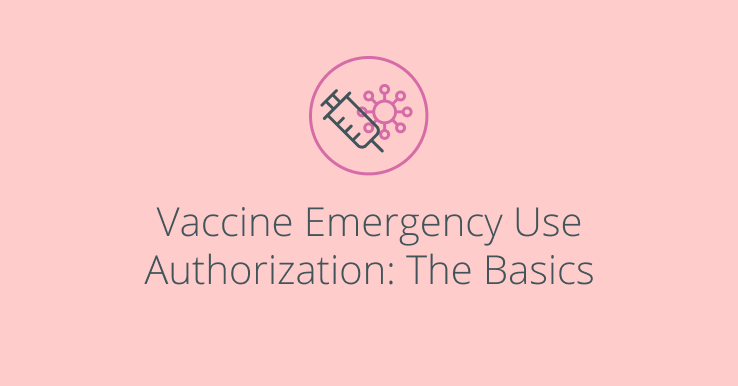 What is Emergency Use Authorization?
Emergency Use Authorizations, or EUAs, enable the FDA to make unapproved products available to the public during declared health emergencies. In the midst of an emergency, like a pandemic, it may not be feasible to collect all of the efficacy and safety evidence typically required by the FDA to approve a drug or treatment. Consequently, they can decide if there is enough support to show that patients will still significantly benefit from having access to the product in question.
What's the difference between granting full approval of licensure and granting an EUA?
The requirements for a full approval demand more criteria than for an EUA; the product would need to have a proven benefit as opposed to a likely benefit with an EUA. Moreover, EUAs expire when the declared emergency ends, unlike a full approval. What does this mean in terms of COVID-19 vaccines? Given that the vaccine would be administered to millions of people who are both healthy and have preexisting conditions, evidence needs to show that the risk of complications are exceptionally low for both an EUA and full approval. Therefore, the safety benchmark for a vaccine is much higher than a typical drug being considered for an EUA or full FDA approval.
What conditions are needed for a COVID-19 vaccine to receive an EUA?
The FDA has published guidelines that outline the requirements needed for an EUA. First, the vaccine must be at least 50% effective, meaning that it reduces the infection by 50% in those who are vaccinated. Second, the medical company must show at least two months of follow-up data illustrating its safety.
In order to qualify for an EUA, the overall benefits must outweigh the potential risks. Before making a final decision, the FDA has said that they will meet with a separate advisory committee to review all of the information objectively.
How long will it take the FDA to decide whether a vaccine will be given an EUA?
There is no set timeline. Once a vaccine maker submits a request for an EUA, it will most likely take a few weeks to review all of the data and make an informed decision. A decision could be made as early as December 10, and then the CDC will meet within 24 to 48 hours. If all goes according to plan, distribution could start as soon as December 14.
What will vaccine availability look like if an EUA is granted?
After a vaccine receives an EUA, it can start to be given to those outside of the initial clinical trial. However, no one will be vaccinated until the CDC reviews the information and decides who will receive it first. Healthcare workers and those with underlying conditions over 65 years old will most likely be given priority. To put that in perspective: those populations collectively make up more than 78 million people in the US, and Pfizer only expects to be able to vaccinate up to 25 million people by the end of the year. Nonetheless, more vaccines will become available with time, and we may see widespread availability in the spring of 2021 if all goes well.
If an EUA is granted, should we be concerned about safety given the fast process and lack of full FDA approval?
No, we should not be concerned. We should have confidence in vaccines that receive EUA Approval. The FDA has extensive regulatory policies to ensure the safety and quality of COVID-19 vaccines in development. FDA Commissioner, Stephen M. Hahn, and Director, Center for Biologics Evaluation and Research, Peter Marks, said, "We are committed to expediting the development of COVID-19 vaccines, but not at the expense of sound science and decision making. We will not jeopardize the public's trust in our science-based, independent review of these or any vaccines. There's too much at stake."
Researchers will still continue to monitor study participants even after an EUA is granted. Moreover, the EUA can be revoked at any time if any risk factors become evident in the continual evaluation. However, adverse reactions typically only begin within 6 weeks of vaccination, so the two months of follow-up data required before submitting a request for an EUA allows ample time for safety assessments prior to authorization. "We really need to put to rest any concept that this was rushed in an inappropriate way," Dr. Anthony Fauci said in a White House briefing. "It was a reflection of the extraordinary scientific advances in these types of vaccines, which allowed us to do it in months that actually took years before."
—
As promised, our COVID-19 Vaccine Task Force will continue to monitor the situation. Until a vaccine is widely available and utilized, it is critical for you and your employees to still socially distance and wear face coverings. It is everyone's responsibility to slow the spread of the novel coronavirus, and a future vaccine is just one measure to help. Interested in learning more about vaccines? Check out our article highlighting other FAQs about Pfizer or our post comparing the Moderna vaccine candidate to Pfizer's.
Sources:
Emergency Use Authorization for Vaccines to Prevent COVID-19 (US Food & Drug Administration)
8 Things to Know about Vaccine Planning (CDC)
What Is Emergency Use Authorization? (Johns Hopkins)
Understanding the emergency use authorization process for COVID-19 vaccines (PhRMA)
Emergency Use Authorization of Covid Vaccines — Safety and Efficacy Follow-up Considerations (The New England Journal of Medicine)